Silver or Gold Dental Crown & Bridges
A silver or gold dental crown is a type of dental crown that is made of gold. Dental crowns are used to restore teeth that have been damaged, decayed, or weakened. A crown covers the tooth, protecting it and improving its appearance. On the other hand, dental bridges help to fill the gap of a missing tooth or several missing teeth.
Gold dental crowns have been used for decades and are known for their durability and strength. They are made of a metal alloy composed primarily of gold but may contain other metals such as platinum, palladium, or silver.
Gold dental crowns are famous because they require less tooth reduction than other types of crowns and can last for many years with proper care. They are also good for people with metal allergies or grinding their teeth.
However, some people may prefer other types of dental crowns, such as porcelain or ceramic, for aesthetic reasons. Your dentist can help you decide which type of dental crown or bridge is best for you based on your needs and preferences.
The cost of gold crowns varies depending on the current stock price of metal or gold with their weight. Please contact your nearest Amazing Smiles dental clinic to arrange a FREE initial consultation so we can thoroughly examine your specific needs and provide a proper quote for your requirements.
what's involved when getting a gold tooth
The process of getting a gold dental crown
Our meticulous attention to detail and commitment to using only the highest quality materials means that you can trust us to create a beautiful and long-lasting gold tooth that you can be proud of. So, if you are considering getting a gold dental crown or bridge, Amazing Smiles are here to help and support you every step of the way.
The process of getting a traditional-style dental bridge is similar. Click here for more information regarding the process of dental bridges.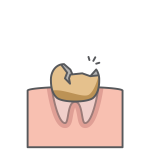 Initial Consultation
During the initial consultation, our dentist will examine your teeth and determine if a dental crown or bridge is the right option for you. They will discuss the procedure and what you can expect during the process. The type of gold will be discussed in detail, along with the costs.
If a gold dental crown or bridge is deemed suitable for you, your dentist will schedule an appointment for the next step.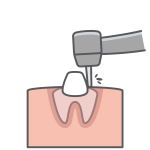 Preparation and Impression
The next step involves preparing the tooth or teeth that receive the crown or bridge. Your dentist will remove any decay or damage and shape the tooth to make room for the crown or bridge.
They will then take an impression of the tooth or teeth, which will be sent to a dental lab to create the gold crown or bridge.
A temporary crown or bridge may be placed over the prepared tooth or teeth to protect them until the permanent restoration is ready.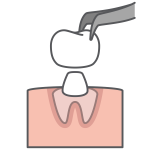 Placement and Adjustment
Once the gold crown or bridge is ready, you will return to the dental office for placement.
Your restorative dentist will remove the temporary crown or bridge and place the permanent restoration, checking for fit and adjusting for comfort and bite.
Once the crown or bridge is properly aligned, it will be permanently cemented.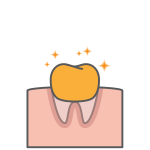 Follow-Up Care
After placement of the gold crown or bridge, our cosmetic dentist will provide you with instructions on how to care for your new restoration. Maintaining good oral hygiene, including regular brushing and flossing, is important to prevent decay or damage to the surrounding teeth and gums.
Your Amazing Smiles local dentist will schedule follow-up appointments to ensure that the crown or bridge is functioning properly and to monitor the health of your teeth and gums.
At Amazing Smiles, we are committed to providing our patients with the highest quality of care and ensuring their comfort throughout the dental crown or bridge process.
Our experienced cosmetic dentists meticulously create gold restorations that fit perfectly and blend seamlessly with the surrounding teeth. We work closely with each patient to ensure their satisfaction with the result.
The Benefits of a Gold Tooth or Bridge
Gold dental crowns have been used in dentistry for centuries due to their exceptional durability and resistance to wear and tear. They are also more malleable than other materials, making them easier to work with during fitting.
Gold dental crowns are biocompatible, meaning they are non-toxic and non-reactive, which reduces the risk of allergic reactions. Gold crowns do not corrode in the mouth, which can prolong their lifespan.
Why Choose Us For Gold Teeth?
If you're considering getting a gold dental crown, look no further than Amazing Smiles Restorative Dentists. Our Gold Coast and Brisbane dentists are renowned for their quality results, as they are perfectionists in designing remarkable smiles for patients.
We work closely with each patient to understand their unique needs and preferences to achieve the best possible results. With years of experience in cosmetic dentistry, you can trust that we will provide you with a high-quality gold dental crown that looks great and is durable and long-lasting.
Choose Amazing Smiles for your gold dental crown or dental bridge and experience affordable, high-quality cosmetic dentistry.
A dental grill is a decorative piece of jewellery worn over the teeth, while a gold crown or bridge is a dental restoration used to protect or replace a damaged tooth.
Dental grills are often removable and made of materials such as gold, silver, or jewels, while gold crowns are permanent fixtures custom-made to fit the shape of the patient's tooth. Additionally, dental grills serve a purely aesthetic purpose, while gold crowns are a functional restoration that helps improve the tooth's strength and longevity.
Dental gold differs from regular gold, as pure gold is too soft and can be easily damaged by chewing. Instead, dentists use a mixture of gold and other metals to create an alloy that is strong and durable enough for dental work.
There are three types of dental gold alloy: precious metal, semi-precious metal, and non-noble alloy.
Precious metal contains at least 60% high noble metal alloys like gold, palladium, and platinum, with 40% gold.
Semi-precious metal contains a minimum of 25% precious metal, including gold.
Non-noble alloy is a blend of chromium, nickel, and gold, with less than 25% precious metal by weight.
The more gold and noble metals in the alloy, the less likely the dental work will corrode or oxidize in the mouth. Gold and other noble metals resist corrosion and damage from oral acid.
The cost of a gold dental crown can vary depending on several factors. These include:
The complexity of the dental work required can also impact the cost, with more extensive or complicated procedures generally costing more
The weight of precious metal at the time of purchase
The quality of metal
Additional treatment for gum disease or tooth decay
The type of gold alloy used in the crown affects the price at the time of quote, with higher percentages of gold and noble metals generally costing more than those with less gold content.
On average, patients can expect to pay anywhere from $1,500 to $2,500 for a gold dental crown. However, it is important to note that prices can vary depending on the factors outlined above. Patients must have an initial consultation with our cosmetic dentist to determine individual treatment costs.
If your gold dental crown breaks or falls off, it is important to contact your nearest dentist as soon as possible to have it repaired or replaced. Leaving a broken or missing crown can lead to further damage or decay of the underlying tooth.
The dentist will first examine the tooth and determine the cause of the damage. If the metal crown can be repaired, the dentist will use dental cement to reattach the crown to the tooth. If the crown is too damaged, a new crown may need to be fabricated.
Replacing a crown typically involves creating an impression of the tooth and sending it to a dental laboratory to create a new crown. The dentist may place a temporary crown on the tooth while the permanent crown is being made.
Once the permanent crown is ready, the patient will return to the dental office to have it placed and fitted. The dentist will check the fit and make necessary adjustments before cementing the crown.
Patients must properly care for their dental crown after it is repaired or replaced. This includes practising good oral hygiene habits, avoiding hard or sticky foods, and scheduling regular dental check-ups to ensure the crown functions properly.
Being purely metal, a gold or silver dental crown can last between 15 to 20 years or even longer with proper care. However, the crown's lifespan may depend on various factors such as oral hygiene, diet, grinding or clenching of teeth, and regular dental check-ups to monitor the condition of the crown.
Patients should maintain a good oral hygiene routine, including brushing twice daily, flossing daily, and rinsing with an antimicrobial mouthwash to prevent decay and gum disease that can weaken the crown's structure. Patients should also avoid eating hard and sticky foods that may damage the crown or cause it to become dislodged.
Patients with private health insurance may be able to claim some benefits towards the cost of a gold dental crown or bridge, depending on their level of cover and the specific policy they hold. However, the amount of cover and the specific items can vary significantly between policies and insurers. Hence, patients must check their policies and consult with their insurer to determine their coverage. Additionally, some insurers may impose waiting periods or limit the number of benefits claimed for certain treatments.
It is recommended that patients consult with their dentist and insurance provider to fully understand their coverage options and any out-of-pocket costs associated with the treatment.
The team at Amazing Smiles Dental can help clarify private health insurance cover and submit claims to ensure our patients receive the maximum benefits available to them.
At Amazing Smiles, we understand that dental treatments can be expensive. We offer our patients interest-free payment options with Humm, Afterpay, and Zip.
Additionally, we've partnered with SuperCare, which allows eligible patients to access their superannuation to pay for restorative dental treatments. With these payment options, we hope to make dental care more accessible and affordable.
We accept all major health funds
Make an Enuiry
Simply complete the form below, and our family-friendly dental team will aim to get in touch with you as soon as possible.